For those that don't know I've been busy RLwise with the guys over at Spoonbank building sets and other things for a movie they are producing and I will have the pleasure of helping edit together. However, I cannot say what the movie will be about until it is near completion. Then I'll be sure to let you all know what we've been working on for the past few weeks.
Other then that things are going awesome/ok at SP. Everyone is Crap was reviewed on Wegame.com's weekly video review and placed on the front page of Machinima.com. I even got quite a few messages from various people telling me how amazing the video and the song was. Needless to say, I'm very proud of the video. I really didn't expect it to get so much attention honestly. On the other hand though Mozq is still struggling a bit with his computer. I haven't talked to him in a few days so I really can't give an update on his condition. x_x
However, now I'm in a bit of a pickle. I'm planning a series called "Ruined Moments" but I need a lot of quick 20 second or less clip ideas. So help me out here guys. If you have a funny and short idea leave a comment. Hell, if it's really awesome I will personally make your character the star of that clip. Who ever said every single one had to include me and Mozq?
Leave a comment or send a message to: Silverlined888@yahoo.com if you have any quick ideas you want to share.
Here's a poster for what I'm planning: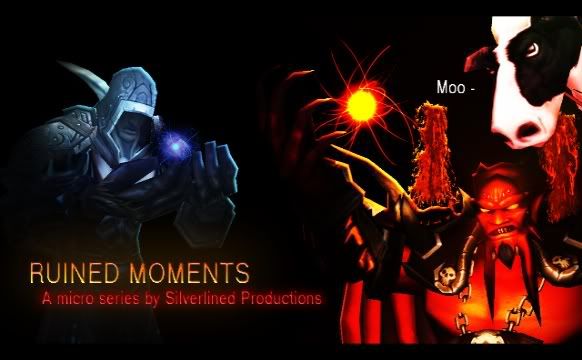 Look forward to the first episode in the near future!
-Nixxiom-